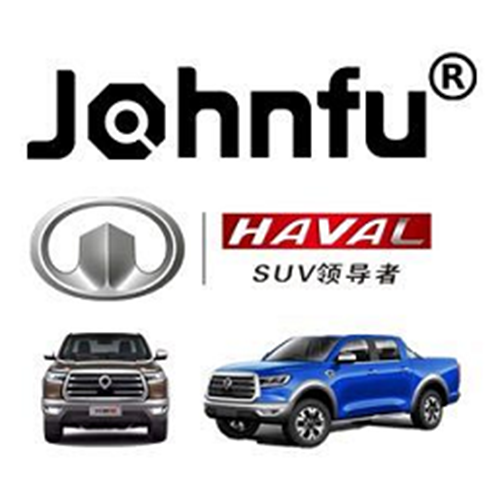 Johnfu automotive

----------------------------GWM Auto Parts Specialist
JOHNFU Import and Export Trade Baoding Co., Ltd. was established in 2019 with the goal of serving the Great Wall Motors global after-sales market; the head office has focused on the domestic after-sales market of Great Wall Motors original parts for 26 years, and is committed to providing customers with OE-quality products and expertise very good service!
JOHNFU is located in the birthplace of Great Wall Motors---Hebei and Baoding. Integrate high-quality talents and supply resources in the field of auto parts to provide products and supply chain services for Great Wall Motor's international aftermarket. Our company integrates high-quality supply resources, and has established long-term and stable cooperative relations with international first-line brands such as Bosch, Delphi, Schaeffler, Gates, ZF, Mahler, BorgWarner, and SDS...
Our company has an advanced ERP management system. Inquiry, order placement, packaging and delivery are all controlled online by the system. The inventory accuracy rate and delivery accuracy rate are close to 100%. The total warehouse area of Baoding covers an area of more than 5,000 square meters, which guarantees Inventory and distribution of thousands of parts and components of Great Wall Motors! With the development of Great Wall Motors, Our company has successively set up branches and powerful warehousing systems in Jinan, Lanzhou, Chengdu, Guangzhou, Kunming, Zhengzhou and so on.... It has truly achieved the rapid delivery goals of same-day and next-day delivery, and won the domestic market. Highly recognized and trusted by customers!
JOHNFU is committed to the quality of the original factory of the Great Wall auto parts brand, and provides the full range of Great Wall auto parts services.  welcome to communicate and negotiate for long term cooperation!.
Formed professional working team for export of auto parts in 2019, The predecessor of Johnfu had engaged in the aftermarket of Chinese Automotive more than 20 years, We are major in original auto parts and build long term cooperation with all those Original Factory.
Johnfu integrates high-quality supply resources and has established long-term and stable cooperation with Bosch, Delphi, Schaeffler, Gates, ZF, Mahle, BorgWarner, GDC and other international first-tier brands.
Johnfu has advanced ERP management system, inquiry--order--packaging--shipping are all controlled by our computer system, The accuracy of inventory is close to 100%. Our warehouse reaches more than 5000 square meters, ensuring the inventory of thousands of accessories for Brand Automotive.
Johnfu is a professional aftermarket supplier for Chinese automotive auto parts, providing full range of auto parts,Welcome to the international friends to communicate and discuss.